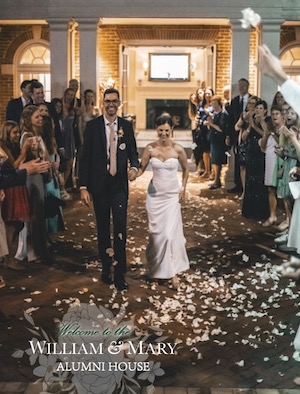 The William & Mary Alumni House is located in the heart of historic Williamsburg on the campus of William & Mary. Close to hotels, churches, restaurants and historic sites, the Alumni House offers both modern and colonial charm in a beautiful, accessible location.
Contrary to popular belief, you do not have to be a graduate of William & Mary to rent the Alumni House. From intimate weddings of 40 people to large gatherings of up to 250, we can do it all. 
The historical side of the House, known as the Bright House, dates from c.1850 and was built on a tract of land once called, appropriately enough, "New Hope." Learn more about the history of the Alumni House.
Our 2020 expansion more than doubles our size to 55,000 square feet. New indoor and outdoor spaces provide even more options for celebrations, ceremonies, receptions and rehearsal dinners.  
For more information regarding renting the Alumni House, please submit an inquiry.
Follow us on Instagram at @wmalumnihouse.