With rooms and outdoor areas with considerable character and architectural interest, the Alumni House's many spaces may be combined in a number of ways, making it a distinctive location for engagement or anniversary celebrations, ceremonies, wedding receptions, rehearsal dinners, business meetings, conferences and other events.
Exterior Spaces
Main Floor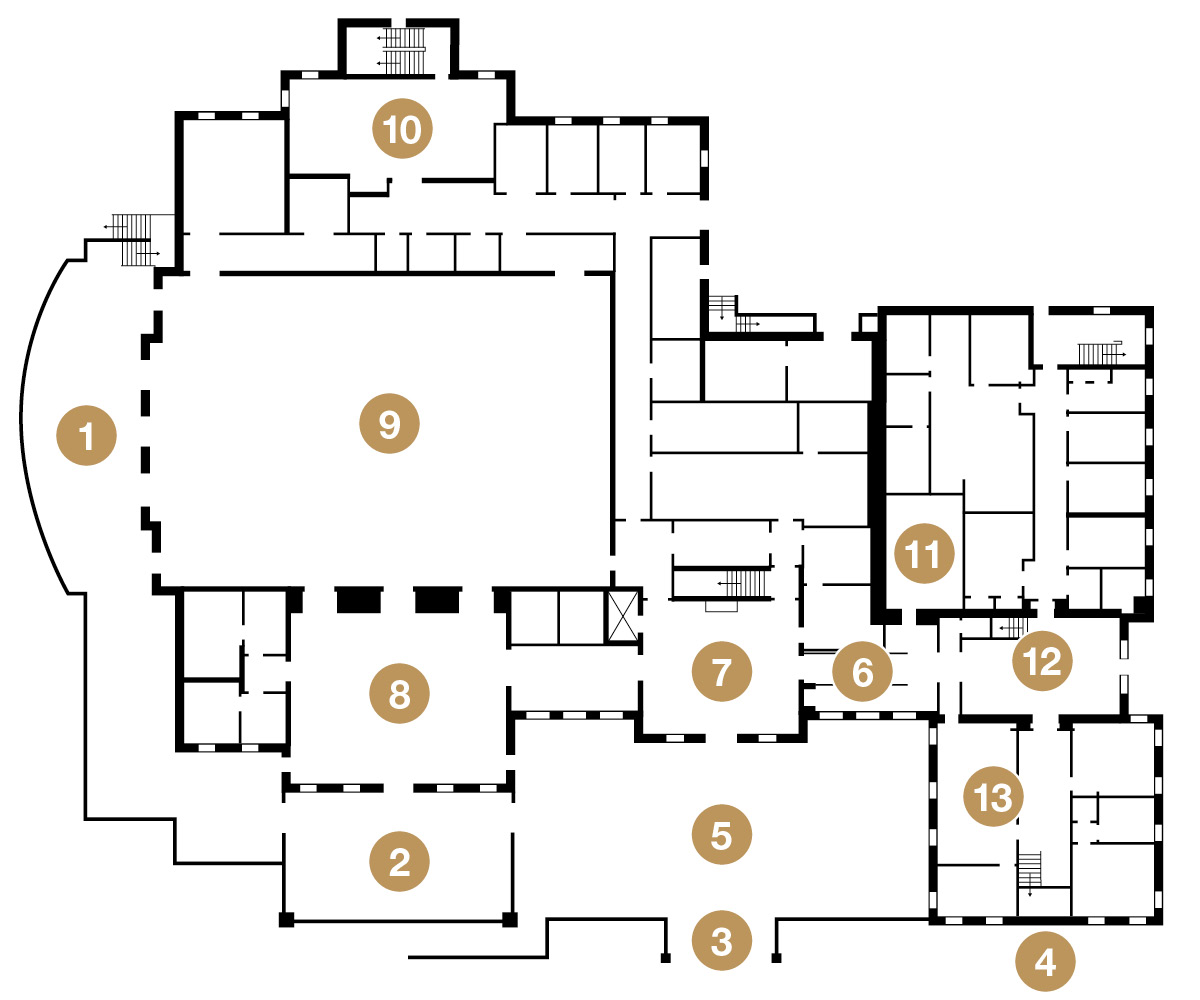 Main Foyer and Reception Hall

This area serves as a cozy space to welcome alumni and friends to the Alumni House. Once inside, casual seating, a beautiful fireplace and mounted screens create a comfortable area in which guests can gather and relax.

Pre-function Gallery

This is the perfect space to welcome guests or enjoy a cocktail hour prior to an event in the ballroom. Small seating arrangements are scattered throughout, an ideal location to take a break and catch a breath from festivities.

Hunter Hall Grand Ballroom

A 5,400-square-foot ballroom featuring state-of-the-art AV equipment. This magnificent space can accommodate up to 400 people at six-foot round tables. It is an elegant and well-appointed space, with a wall of glass doors that open onto the plaza. A moveable partition can divide this space into two smaller areas.

Alumni Lounge Located in the original Bright House, this lounge provides an additional space for alumni to stop in to check emails, charge a cell phone or tablet, or to sit back with a cup of coffee
Grand Foyer and Gallery

The grand foyer and adjoining gallery form a two-level area that can accommodate up to 80 guests for a unique ceremony or cocktail hour space. The foyer features a baby grand piano, offering the possibility for live music to fill the gallery and the small rooms located in the front of the Bright House. This space is much-loved for dessert hour and to showcase wedding cakes, in addition to its use as an intimate gathering space for toasts and well-wishes during wedding celebrations.
Second Floor