With rooms and outdoor areas with considerable character and architectural interest, the House's many spaces may be combined in a number of ways, making it a distinctive location for engagement or anniversary celebrations, ceremonies, wedding receptions, rehearsal dinners business meetings, conferences and other events.
Exterior Spaces
Clarke Plaza: The Elizabeth & T.C. Clarke '22 Plaza is a brick courtyard adjacent to Hunter Hall and can comfortably seat larger gatherings for luncheons and dinners, or may be used in conjunction with the indoor spaces as a location for cocktails prior to dinner and dancing. A beautiful and intimate gathering area, Clarke Plaza is a wonderful extension to reception in Hunter Hall.

The plaza also serves as an excellent option for an outdoor ceremony or informal functions. Facing Zable Stadium, Clarke Plaza is paved with hundreds of engraved bricks, commemorating special times, people and places in the lives of the William & Mary family.


Walled Garden: The Johnson Family Walled Garden is named in honor of Cliff Johnson '65 and Mary Ann Johnson. This intimate oasis is filled with fragrant ornamental shrubbery and serves as a wonderful addition to a pre-function event. Hidden speakers help make this garden a perfect change of scenery from the party indoors.


Entrance Circle: The Old Guarde Council Entry Circle is named in honor alumni of William & Mary who graduated 50 years ago or more. A bronze cypher is embedded at the center, welcoming W&M alumni and friends.


Family Courtyard: The Family Courtyard is a beautiful hardscaped area at the front of the historic Alumni House. Plaques in the courtyard honor multigenerational William & Mary families and affinity groups with deep ties to the university.


Entrance Terrace: After descending the stairs from the entrance circle, guests proceed across this beautiful bricked terrace, which can host outdoor dinners or cocktail receptions.
Main Floor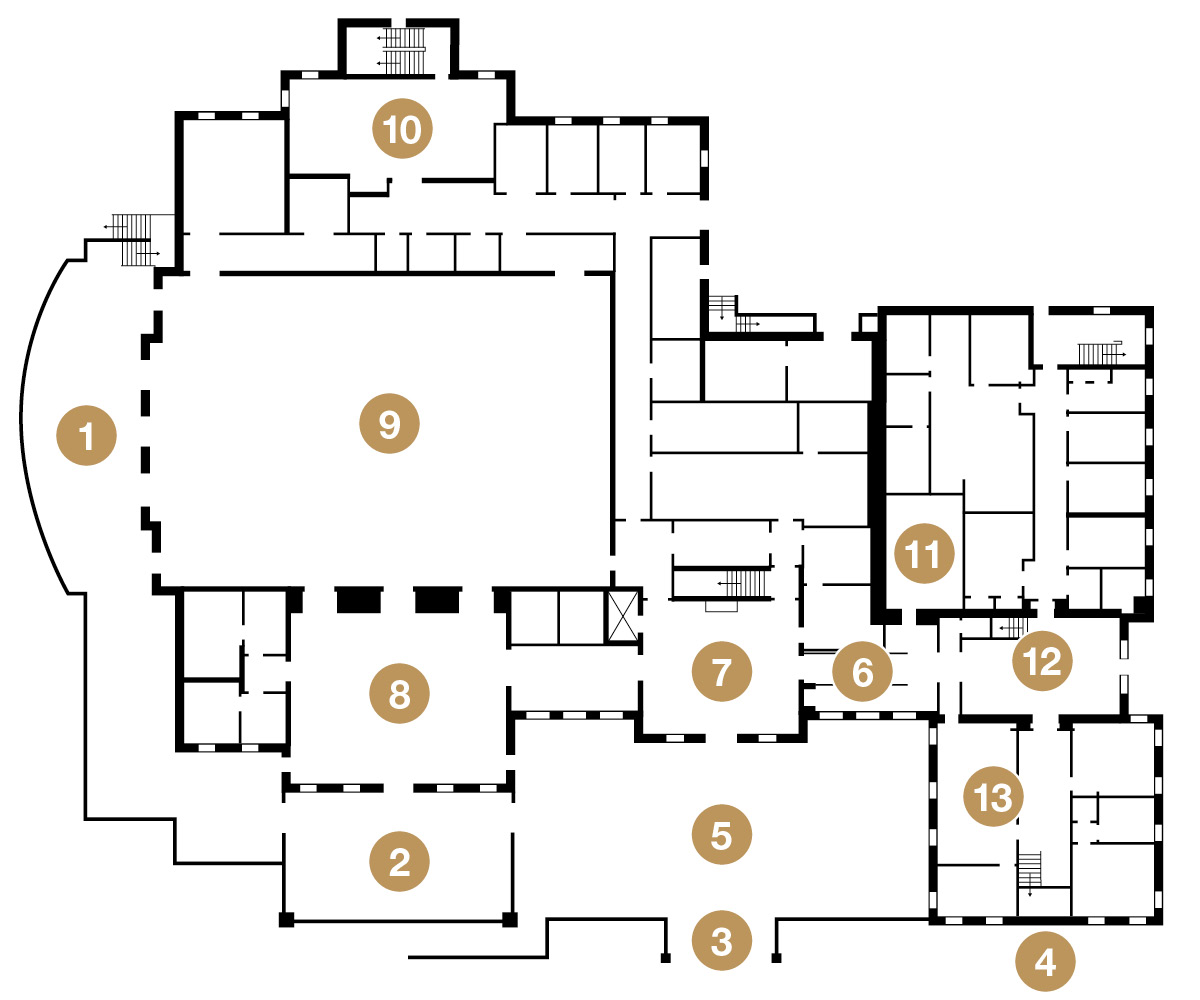 Reception Hallway: named for Alice Givens '94, the Alice Givens Reception Hallway connects the Class of 1945 Grand Foyer to the Acuff Reception Hall, where the 1997 and 2020 expansions meet.


Main Foyer & Reception Hall: named for A. Marshall Acuff '62,

L.H.D. '07,

 former president of the Alumni Association, the Acuff Main Foyer & Reception Hall serves as a cozy space to welcome alumni and friends to the Alumni House. Once inside, casual seating, a beautiful fireplace and mounted screens create a comfortable area in which guests can gather and relax.


Pre-function Gallery: The Class of 1965 Pre-function Gallery is perfect space to welcome guests or have a cocktail hour prior to an event in the ballroom. Small seating arrangements are scattered throughout, a perfect location to take a break and catch a breath from festivities.


Grand Ballroom: named for Hunter J. Smith '51, L.H.D. '18, lead donor for the Alumni House expansion project, Hunter Hall is a 5,400-square-foot ballroom featuring state-of-the-art AV equipment. This magnificent space can accommodate up to 400 people at six-foot round tables. It is an elegant and well-appointed space, with a wall of glass doors that open onto Clarke Plaza. A moveable partition can divide this space into two smaller areas.


Catering Kitchen: named for the affinity group representing alumni of William & Mary who served in food service, The Order of the White Jacket Catering Kitchen is a top-of-the-line kitchen for on-site caterers. The OWJ serves to promote the honor and dignity of work ethic through manual labor to finance a college education, and supports students working their way through college in food service through scholarship opportunities.


Alumni Lounge & Business Center: The Class of 1967 Alumni Lounge & Business Center provides a quiet space for alumni to stop in to check emails, charge a cell phone or tablet, or to sit back with a cup of coffee.


Grand Foyer & Gallery: The Class of 1945 Grand Foyer and adjoining Class of 1944 Gallery form a two-level space that can accommodate up to 80 guests for a unique ceremony space or for cocktail hour. The foyer features a baby grand piano, offering the possibility for live music to fill the gallery and the small rooms located in the front of the Bright House. A much-loved use for this space is to display wedding cakes and dessert offerings; it also serves as an intimate gathering space for toasts and well wishes to the couple.


Kappa Alpha Lounge: This lounge is named in honor of members of the Kappa Alpha fraternity, whose members resided in the Alumni House from 1925-1943.
Second Floor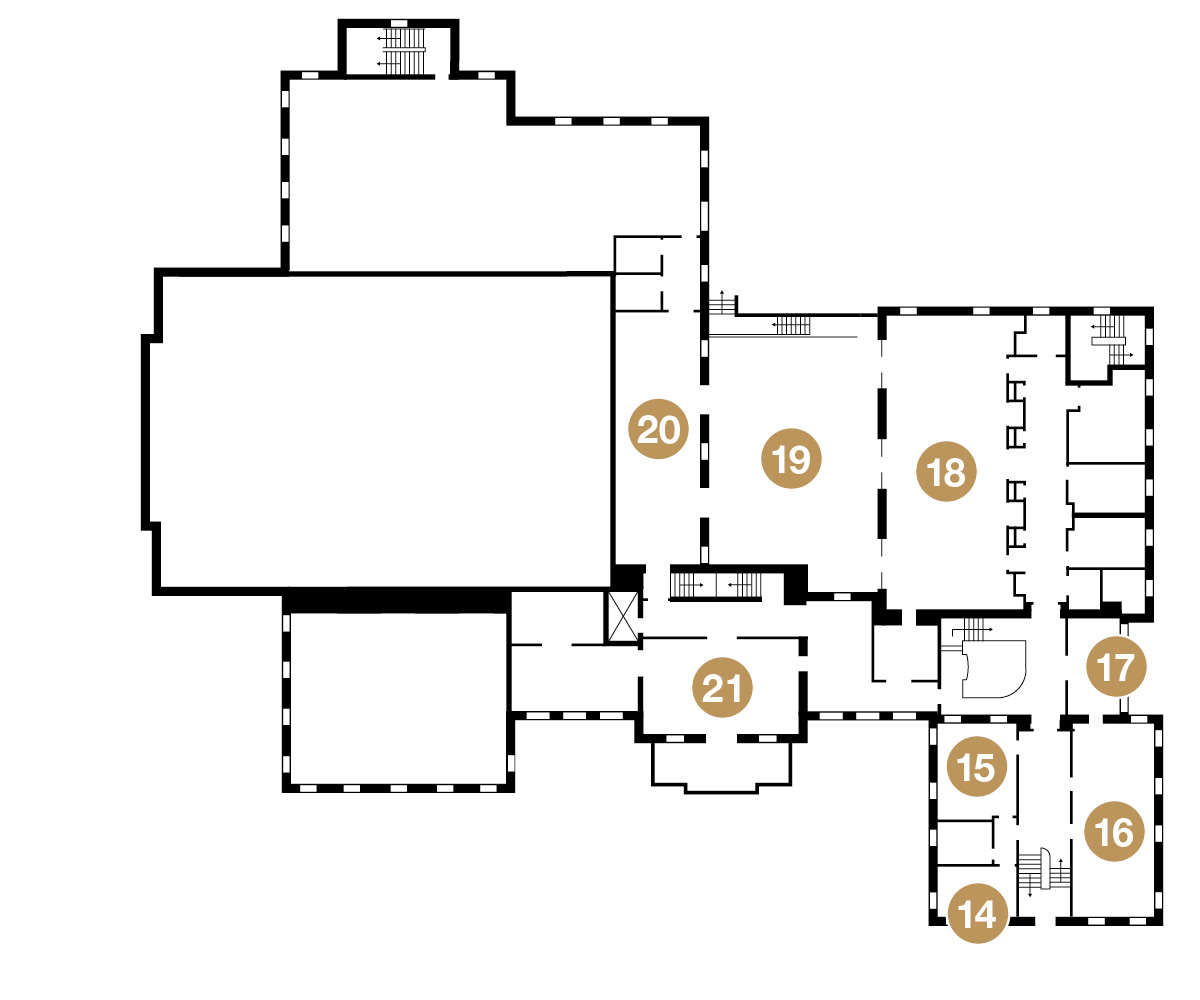 Paschall Library: Adjacent to the Chandler Room is the Davis Y. Paschall '32 Library, named in honor of the 22nd president of William & Mary. Every book that resides in the library was authored or edited by W&M alumni. The library is an intimate space, perfect for bridal preparation photos, as well as a quiet area for the newly married couple to take some time to relax, get their bearings and have a small bite to eat before joining their guests at the reception.


Chandler Room: Across the hall from the Pollard Room is the Julian A.C. Chandler '91 Room, dedicated to the 18th president of William & Mary. The Chandler Room most closely resembles a traditional dining room, with mahogany sideboards flanking the dining table. The Chandler Room is traditionally used for guestbook set up and gift storage, but can also be used as a child-friendly entertainment room or as an additional food station for cocktail hour or the main reception. It can also be a comfortable location for small meetings.


Pollard Room: Honoring the 61st governor of Virginia, the John Garland Pollard Room is modeled after a traditional parlor. With Oriental carpets adorning the recently refreshed heart pine floors original to the Bright House, guests are welcome to make themselves comfortable in the numerous seating arrangements available. The Pollard Room makes for a wonderful starting point to any event, with a large, sturdy table that is perfect place to serve cocktail hour hors d'oeuvres or additional dinner service. It can also serve as a conference room for business meetings.


Conference Room: The Class of 1965 Conference Room is adjacent to the gallery and is an ideal location for food stations or bar service. This is a central location from all spaces in the Bright House and can alternatively be used as a dessert station or as a place for family photo displays. It is also a classic conference room for business meetings.


Leadership Hall: The elegant Leadership Hall, added during the 1997 expansion project, can accommodate groups of up to 140 people. Maximum seating options include 96 people for a plated-seated dinner, 120 people for a buffet-style meal and up to 140 people in a theatre-style seating setup.


Ukrop Terrace: Adjoining Leadership Hall, the newly renovated and expanded Ukrop Terrace gives the feel of a sleek, modern rooftop bar in the heart of Williamsburg. The Terrace is available for use as an extension of a Leadership Hall reception and can accommodate a mixture of both stand-up cocktail tables and additional seated tables. This is an open-air space and would need to be tented (not included in rental) by a third-party vendor in case of inclement weather.


Gallery: Joining the updated Ukrop Terrace with the expanded Alumni House, the Kaplan Gallery features a wall of arched windows, which allow for a sun-filled space as weather permits. Named for James Kaplan '57 & Jane Thompson Kaplan '56, this gallery is decorated with an eclectic mix of seating and artwork and can be used independently or in conjunction with Leadership Hall and Ukrop Terrace for an additional fee.


Boardroom & Second Floor Balcony: Named for David Kelley '81, the Kelley Boardroom is an impressive and spacious location for your next meeting. Fully outfitted with AV and other technical needs, it offers the privacy you are seeking and comfortably seats 24.

Through the glass-paned double doors, you can enjoy a panoramic view of Williamsburg from the Anderson Balcony. This space affords a perfect photo opportunity for brides and grooms as well as entire wedding parties.