With rooms and outdoor areas with considerable character and architectural interest, the House's many spaces may be combined in a number of ways, making it a distinctive location for engagement or anniversary celebrations, ceremonies, wedding receptions, rehearsal dinners business meetings, conferences and other events.
Exterior Spaces

Family Courtyard
The Family Courtyard is a beautiful hardscaped area in the front of the historic Alumni House. Plaques in the courtyard honor families with multiple generations of William & Mary graduates. It can be tented (not included with rental) to complement your event and is an intimate location for an outdoor ceremony.
Elizabeth J. and T.C. Clarke Plaza
Clarke Plaza is a brick courtyard adjacent to the grand ballroom and can comfortably seat larger gatherings for luncheons and dinners, or may be used in conjunction with the indoor spaces as a location for cocktails prior to dinner and dancing. Many choose to use tents of various sizes (not included with rental) on Clarke Plaza in the event of inclement weather, or as a complementary accent to the festivities planned.
The plaza also serves as an excellent option for planning an outdoor ceremony or for informal functions. Facing Zable Stadium, Clarke Plaza is paved with hundreds of engraved bricks, commemorating special times, people and places in the lives of the William & Mary family.
Ground Floor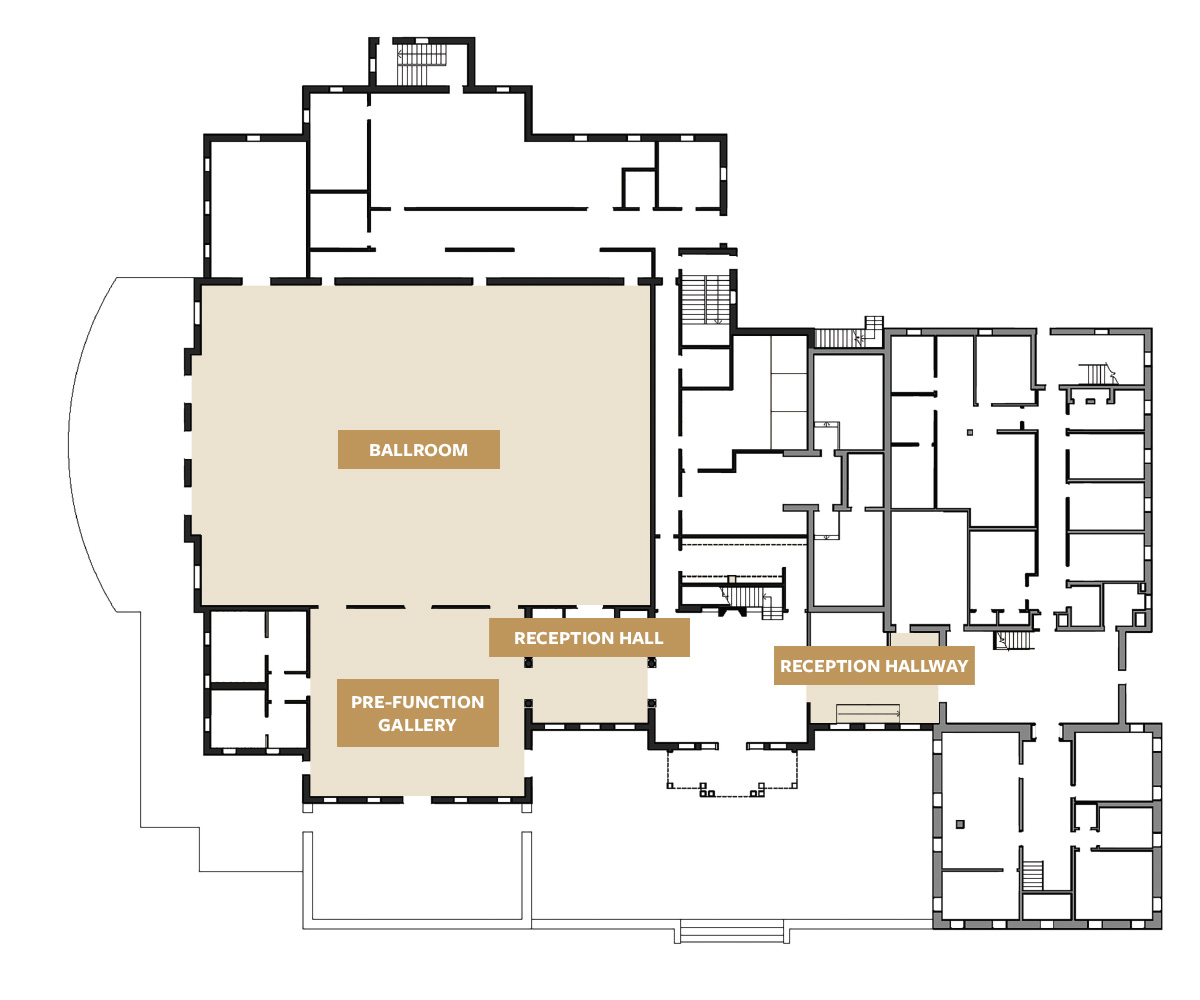 Ballroom
Our new state-of-the-art, AV-equipped ballroom with  will seat 400-plus people at tables or 800-plus people conference-style. It will be an elegant, well-appointed space for large events of any type. It contains a movable partition to divide the room into two smaller spaces as necessary.
Pre-Function Gallery and Walled Garden
This space is perfect for cocktails prior to an event in the ballroom or can be rented by itself. The room opens to the brick-paved walled garden for an additional outdoor event option.
Entrance Terrace and Reception Hall
As your guests arrive at the Alumni House, they will walk across the bricked entrance terrace, under the columned portico and into the reception hall. A large fireplace adorns one wall and mounted screens can show photographs to complement your cocktail hour or pre-event reception.
Atrium Staircase
This wide and winding staircase is a beautiful location for photographs. 
Catering Kitchen
This up-to-date professional kitchen has everything a catering company will need to stage your event.
Kappa Alpha Lounge
This stately lounge in the historic part of the Alumni House is a luxurious and quiet space for bridal parties to relax prior to the ceremony or guests to retreat during an event.
Alumni Lounge and Business Center
Need a printer or a quiet place to check emails? Grab a cup of coffee, charge your cellphone and take care of your business needs in this comfortable lounge.
Second Floor
Second Floor Gallery
This beautiful, well-lit space overlooks Ukrop Terrace and displays a variety of art. Use this space independently or in conjunction with Ukrop Terrace and Leadership Hall for an additional fee.
Leadership Hall
The elegant Leadership Hall can be set in a number of configurations to accommodate groups of between 30 and 180 guests. Seating options accommodate up to 96 guests for a served dinner, 120 guests for a buffet-style meal or 125 guests "theatre style" for ceremonies. It is also possible to accommodate up to 150 guests for a standing cocktail reception. The addition of musicians and/or a dance floor (not included with rental) alters the seating capacity, but can easily help the room serve as the focal point for any function.
Ukrop Terrace
Adjoining Leadership Hall is the Ukrop Terrace, offering an outdoor space that can be enjoyed in conjunction with Leadership Hall. It seats up to 48 guests for a served dinner or 64 guests for a buffet-style meal. In conjunction with Leadership Hall, the Terrace may be used to increase the total (combined) seating capacity to 144-180 guests or may feature food/bar stations. The terrace can accommodate both musicians and dancing, weather permitting, and can be covered with an awning.
Second-Floor Balcony
Look out from the balcony onto Zable Stadium and beyond! The second-floor balcony is an interesting and unique location for photographs.
Boardroom
An ideal location for your next meeting, the boardroom seats 20 and is fully outfitted for AV and technical needs.